My name is Daniel Carville – retired from computer engineering - living in Cormontreuil, near Reims (Marne 51) and I am fascinated by war aviation - period 39-45 - probably since my childhood, when I saw flying over Reims the large Bombers units, small shiny crosses followed by white trails.

It was in 2005 that I had the idea of creating a software which would enable people to find, in a database, a plane that was shot thanks to information concerning the aircraft or its crew.
Given the fact that the total number of Allied and German planes shot down on French ground was estimated at 25000, I chose to limit my database to the allied aircrafts only as they amount to about 10000.

The web site was only created in November 2008 because I had to learn new informatic languages first before getting started.

I dare hoping that this research work will be useful to some people. As for me, it allows me to understand better this dramatic period, while discovering fabulous stories, such as this man who jumped from his B-17 in flames 5000 metres without a parachute and fell on the glass-roof of the St-Nazaire train station, "only" suffering from 23 fractures, but alive!

Of course, some mistakes can be found despite all my carefulness. I am opened to any information allowing to find the right information and to any comment allowing to improve the site.

English version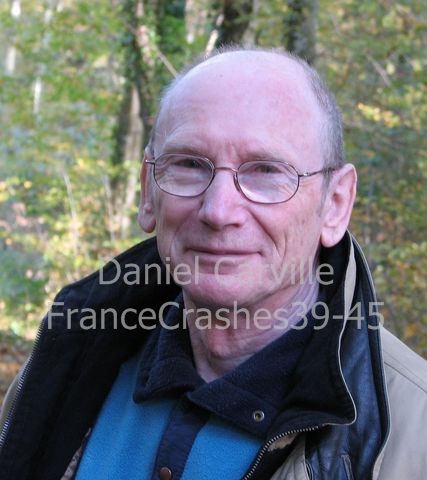 Je m'appelle Daniel Carville - retraité de l'informatique - habitant à Cormontreuil, agglomération de Reims (Marne 51) et je suis passionné d'aviation de guerre - période 39-45 - sans doute depuis mon enfance, quand je voyais passer au-dessus de Reims les grandes formations de bombardiers, petites croix brillantes suivies de trainées blanches.

Il a fallu attendre 2005 pour que naîsse l'idée de créer un logiciel qui permettrait de retrouver, dans une base de données, un avion abattu à partir d'un renseignement concernant l'appareil ou son équipage.
Etant donné que le nombre total d'avions alliés et allemands abattus sur le sol français était estimé à 25000, j'ai choisi de me limiter aux appareils alliés, sachant que l'on doit avoisiner les 10000.

Le site internet n'a été créé qu'en Novembre 2008, car j'ai dù auparavant "apprivoiser" quelques nouveaux langages informatiques avant de me lancer.

J'ose espérer que ce travail de recherche sera utile à quelques uns. Quant à moi, il me permet de mieux comprendre cette période dramatique, tout en découvrant des histoires fabuleuses, tel cet homme d'équipage sautant de 5000 mètres sans parachute de son B-17 en flammes et tombant sur la verrière de la gare de St-Nazaire, avec "seulement" 23 fractures, mais en vie!

Bien entendu, il y a forcement des erreurs, malgré le soin apporté à chaque fiche. Je suis ouvert à toute information susceptible de retrouver la bonne information, ainsi qu'à toute remarque permettant d'améliorer le site.