Extraits du site http://www.207squadron.rafinfo.org.uk -
4th December 1944 - The Squadron History records that : "207 Squadron crews reported their first sighting of enemy jet fighter aircraft, an

Messerschmitt Me262 - Photo du site www.warbirdsnews.comMe262
, during a raid by 19 aircraft on Heilbronn railway yards, but no combats took place. This was regarded as a successful raid although two Lancasters, captained by P/O G L Wall (PB765 EM°B) and F/O M J Lovett (LL968 EM°K) failed to return …"
Bill's book, published in 1997, reflects the official records and how the survivors thought they came to be shot down:
"Hit by flak, shrapnel from the blast slicing into the central fuselage and mortally wounding Sgt Sharp. Partially abandoned and crashed near Holtzwihr (Haut Rhin), 6km NE from the centre of Colmar.
In December 1990 Patrick Baumann's brother Marc, who had made contact with German nightfighter squadron associations and researchers, contacted Roy Hill to say that he had found evidence that PB765 was not shot down by flak but by a night fighter.
The Luftwaffe pilot was one of their experten, Karl Friedrich Müller, CO of a unit based at Darmstadt. He was apparently their top scoring night fighter pilot for single seater aircraft, PB765 being 27th of his final tally of 30.
He had succeeded in getting upward firing guns mounted in his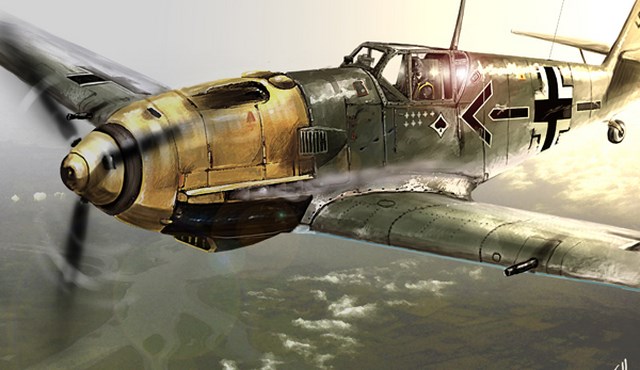 Messerschmitt Me109 - Photo du site www.deviantart.comMe109
G - usually they were mounted in twin engined aircraft such as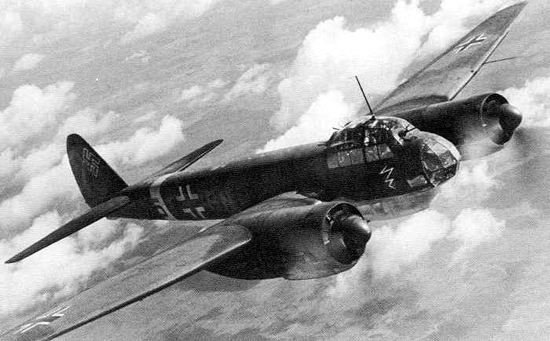 Junkers Ju88 - Photo du site passion-histoire.forumactif.comJu88
or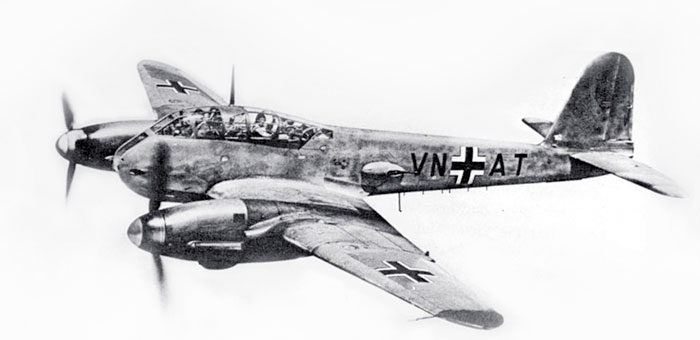 Messerschmitt Me210 - Photo du site www.theworldwars.netMe210
.
An entry in his log book gives the exact location and time of the shooting down of two Lancasters within a few minutes of each other on the night of 4/5 December 1944, one of which tallies with PB765.
(4 Décembre 1944 - Le journal de l'Escadron rapporte que les rapports ont signalé leur première observation de l'avion ennemi de combat à réaction, un Me 262, lors d'un raid de 19 avions sur la gare de triage d'Heilbronn, mais aucun combat n'a eu lieu. Cela a été considéré comme un succès bien que deux Lancaster , P/O G L Wall (PB765 EM°B) et F/O M J Lovett (LL968 EM°K) ne soient pas revenus …
Le livre de Bill, publié en 1997, reflète les documents officiels et indique comment les survivants pensaient qu'ils en étaient venu à être abattus :
Avion touché par la flak au niveau du centre du fuselage, blessant mortellement le Sgt Sharp. Avion partiellement abandonné, s'écrasant vers Holtzwhir à 6 km NE du centre de Colmar
En Décembre 1990 Patrick Baumann, le frère de Marc, qui avait pris contact avec l'association des chasseurs de nuit et avec des chercheurs, a communiqué avec Roy Hill pour lui dire qu'il avait trouvé des preuves que le PB765 n'a pas été abattu par flak, mais par un chasseur de nuit.
Le pilote de la Luftwaffe était l'un de leurs as, Karl Friedrich Müller, le CO d'une unité basée à Darmstadt. Il aurait été leur plus haut score de pilote de chasse pour avions monoplaces de nuit. Le PB765 étant le 27e avec un total de 30.
Il avait réussi à obtenir la correction de tir des canons montés dans son Me 109G - généralement ils étaient montés dans un avion bi-moteur comme Ju88s ou Me210s.
Une entrée dans son journal de bord donne l'emplacement exact et l'heure de la destruction de deux Lancaster à quelques minutes les uns des autres dans la nuit du 4 au 5 Décembre 1944. L'un d'eux correspond au PB765.)
Stèle sur le site
Aerosteles
Photos équipage, plaques commémoratives et récits sur
www.207squadron
| | | | | |
| --- | --- | --- | --- | --- |
| F/Sgt Sharp (Photo M. Auburtin) | | Tombe Sgt Turner (Photo M. Auburtin) | | Esp Mém Lorraine (Photo M Auburtin) |